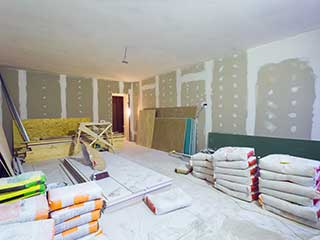 Once upon a time, making the interior of your home look classier meant adding lots of expensive furniture. Walls tended to be lined with decorative shelves and cabinets that stored glassware, books and figurines. Couches and sofas were also ornate and designed more for appearance than comfort. These days, most people tend to prefer a minimalistic approach, and drywall is the perfect material for remodeling your home without the need for expensive and bulky furniture.
Creating Feature Walls
Drywall is the perfect material to use when renovating because it is so versatile and easy to work with. In fact, it can easily make any wall in your home a feature wall with a variety of geometric shapes, shelving and so much more. You can create a feature wall (also known as an accent wall) in order to showcase your huge flat screen TV, create your own bedhead, or because you have an extensive collection of books you want to display. If you have limited space available, the use of plasterboards doesn't require a lot of space, so this material is still a very viable option. Once you apply it with the color and texture you like, it will make a beautiful addition to your home, and emphasize the area you want to bring into focus.
Add Some Cool Features
If you really want some part of your property to stand out, you can add some trendy and fun features like hidden lights. You can also incorporate glittery stones, or even tiles, for an added personal touch. Plasterboard panels can also support decorative cornices, picture frames or celling centers to showcase an elaborate light fixture. The only thing you are limited to with these products is your imagination. With drywall, the possibilities are virtually endless.
Use Paint As A Feature Too
Using with this material can add a very personal and exciting touch to your home, but the real fun comes with choosing your color schemes. If you find it difficult to make decisions then you could be in a bit of trouble because, like drywall, paint selection has also gone 'high tech'. There are so many colors, textures and finishes to choose from that choosing just a few can be tough. Our team will be happy to assist you with this aspect, of course.
Drywall Is Cost Effective
Depending on the project, you may be able to save yourself quite a bit of money in the long run by choosing to use gypsum boards. Unlike expensive furniture, this material is relatively easy to repair if it gets damaged. You are also not limited to your color choice with drywall. If you get bored with the colors you chose, changing them is as simple as buying a bucket of paint or two and quickly slapping it on.