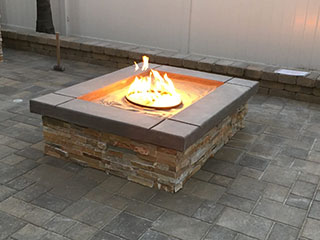 Add some outdoor heating or fire pits to your property, and you can turn a boring old lawn into an appealing extra living space! Not that we're calling your lawn boring, we're sure it's lovely, but adding some outdoor fireplaces or pits adds a whole world of new possibilities. Besides the obvious style points, you can cook outdoor meals, enjoy the open air in any weather, and open up hosting and entertainment options. With our flexible landscaping and outdoor heating installation services, you can turn your Agoura Hills property into something unique and special!
Outdoor Fireplace Ideas
The old fashioned wood fire pit is great for toasting marshmallows and telling stories if you don't mind keeping a supply of wood on hand. If you don't, you can get finer control and easier fuel by installing a propane fire pit. A propane fire pit or one of our other outdoor gas fireplaces is adjustable, reliable, and doesn't break your back or kill any trees. Aside from fuel choices, there's also the question of covers and surroundings. A covered fire pit retains heat better, and we can give you a built-in grill or spit. For wood fire pits, you should also think about containment. Stone circles are the classic option, but a concrete seal is the most reliable!
Add Fire Pit Tables For Outdoor Cooking
A nice propane fire pit or wood-burning grill lets you barbecue and roast at will. You could call it the backbone of your outdoor kitchen setup. If you want to fill this skeleton out into something with real meat (and yes, that was a barbecue joke), think about a fire pit table. A raised table with built-in counter space around the pit gives you a proper workspace for all kinds of cooking and fire-tending. A fire pit table with good seating around it also doubles as a great outdoor heating system. A fire pit table can do everything an outdoor fireplace does, and then some!
Patio Fireplaces And Outdoor Heaters
Building a patio fireplace is easier than installing an indoor one, thanks to the ease of ventilation and smoke control. Outdoor fireplaces keep your deck or patio heated in style and comfort. Like all fireplaces, an outdoor hearth can be wood or gas-powered. Outdoor gas fireplaces in particular are easy to use and control and deal well with adverse weather. If fire isn't quite your speed, you can take advantage of our electrical outdoor heating systems. Outdoor heating lamps, radiators, and stands all have their places in a well-designed patio space.
Free Quotes For Agoura Hills Outdoor Heating Features
Outdoor design is a big investment that no one wants to jump into blind. That's why we offer free estimates on outdoor heating features for Agoura Hills and nearby areas. Whether you're interested in wood fire pits, outdoor gas fireplaces for a patio-parlor, or simple outdoor heating, we'll tell you the deal upfront. With our experts on hand for consultation, you can also rest assured that you know what's advisable, and make the best decisions for your property. Call us to get free estimates on outdoor fireplaces, fire pits, and other heating features for backyard patios and decks.