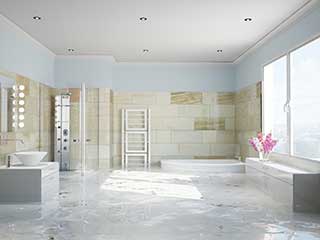 Flooding of any kind is nasty business, particularly when a household is involved. Water's ability to get into everything is a great cause for concern, and flood water is particularly nasty because it often harbors harmful bacteria and contaminants. Then there's the inevitable growth of mold and mildew that can follow. Regardless of whether the flooding as caused by a burst pipe or due to a natural disaster, you'll need to get rid of the excess water as soon as possible.
Switch Off The Water Main

If the flooding you're experiencing is the result of a burst or leaky pipes, the first thing you need to do is turn the main valve off. If the pipe is inside your home, you can do this very quickly. However, if it is part of the public water system you will most likely need to wait for a government representative to come and turn it off. Once you stop the constant flow, the water level should subside pretty quickly and the water extraction crew can start the clean-up.

Wait For The All Clear

If the flooding is the result of a natural disaster, you would have most likely been evacuated. It is very important not to return to your home until the authorities have given the all clear. Flood water tends to bring all sorts of harmful contaminants, debris and sometimes even dangerous creatures, and you'll definitely want to avoid all three. Just like with burst pipes, once the situation is safe again, the water extraction and cleaning process can begin.

Be as Thorough as Possible

The most important part of the clean-up process is extracting as much water as possible from all the different areas of your home. If you have a basement, it may resemble a filthy swimming pool right now. This will require the assistance of a professional water extraction crew, as they will have the necessary equipment to do this job safely and properly. You'll also want to have the water extracted from other areas of your home, particularly carpeted areas. The more water you can get, the less time it will take to completely dry your property afterwards. Keep in mind though, that the longer your home stays flooded, the more likely you will be forced to discard of things like appliances, carpets and drywall sections. These items do not take well to excessive moisture and in the case of flooding will most likely be destroyed. If you require any help, give our team at Drywall Repair & Remodeling Agoura Hills a call.