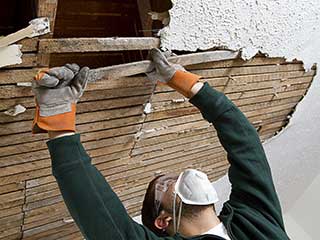 If you live in an older house, chances are good that you have a popcorn ceiling in at least one of the rooms. Once the hallmark of any good home, this look has become very dated and seen for what it really is ... a clever way to hide imperfections in the ceiling. The problem isn't just visual. Popcorn ceilings are difficult to maintain and almost impossible to keep clean. They can sometimes contain asbestos too, which makes them a potential health risk. If you're tired of looking at your bumpy ceiling, you can get rid of that ugly old look in favor of a sleek and smooth ceiling that will bring your home into the new millennium.
Get Your House Checked First
If your home is considerably old, you will need to get it checked by an authorized inspector first. Many older properties contain asbestos and this is bad news for homeowners who want to conduct any type of home improvements. If you want to get your popcorn ceiling sanded and scraped, the exposure to asbestos is a very real threat so this inspection is an absolute necessity. Once your home has been given the all clear, you'll be able to decide how to deal with your popcorn problem without worrying about health risks.
Let The Scraping Begin
Scraping the popcorn texture off your ceiling is messy and time consuming. Yes, you can just cover all of your furniture with plastic sheets or newspapers, but if it is at all possible, you are better off getting one room done at a time and getting all the furniture out while the work is going on. Depending on what the scraping reveals, your ceiling may look great after this process and only need a light skim coating in a few tricky spots before being painted.
Just Cover Up
If you can't be bothered with all the hassles of scraping the old popcorn texture off you can just have it covered up with new drywall celling panels. This is a lot quicker than scraping and will leave very little mess behind. The important thing is to make sure the new panels are properly secured into the framing structure. The other cover up solution is for those who like textured ceilings, but not necessarily the popcorn texture. This method involves a little bit of cleaning and preparation before applying a new textured pattern but it is a quick and easy alternative, particularly if you want to retain the character and charm of your older home. Give our team at Drywall Repair & Remodeling Agoura Hills a call and we'll help you decide on the best course of action.