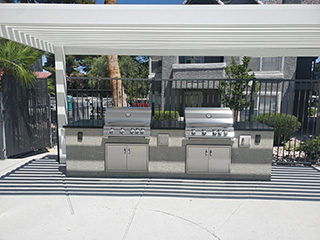 To improve an outdoor area like decking or a patio, consider the many benefits and design ideas for outdoor kitchens. You can add more than simple outdoor tabletops. Choose custom-built outdoor cabinets and you'll have a decorative way to also store tableware and other items outside, saving you time to go inside the house to get them. An outdoor kitchen with gas and water features, or even electricity, becomes incredibly efficient. You can prepare food and cook it all in the outdoor kitchen of your Agoura Hills home, enjoying the fresh outdoor air all the while. You know what they say, a family that cooks together, stays together. And a family that cooks or eats outside, well, they just have more fun, don't they?
Outdoor Tabletops – Paved, Wood, or Composite
For the optimal outdoor kitchen experience in your Agoura Hills backyard or other areas, you need tabletops to facilitate utility and also add to the design. You can pick from different materials and textures to ensure your outdoor tabletops fit the deck or patio kitchen set. Go with stone outdoor tabletops for a hardwearing build that remains durable in all weathers. Of course, brick, paver, or stone outdoor tabletops may not always go so well with decking, so you've got other options too. A wooden outdoor tabletop will increase aesthetics and create a very distinguished look. But if you're looking for something with far less maintenance, composite tabletops for outdoors will provide a wood-like appearance without the costly and time-consuming upkeep.
Custom-Built Cabinets For Outdoors
Storage is important in any kitchen, outdoors or indoors. Of course, with an area more exposed to the elements and shifting temperatures during the day, you need something durable and secure to put things inside. Outdoor kitchen cabinets can provide an excellent way to keep tableware and other containers and items in your Agoura Hills deck or patio. With our custom-built cabinets for outdoor kitchens, you can pick not only a variety of designs but all sorts of materials. From beautiful wood to even Trex or other composite materials. Choose the cabinets you want for your outdoor kitchen and let's talk design and other features to give you a free estimate.
BBQ Island With Grill Stations & Utilities
A food preparation spot is a must-have for outdoor kitchens. Most people choose stone BBQ islands, paved from something strong and durable that won't crack easily. It's important to have a smooth surface area to use as a tabletop. BBQ islands make for excellent spots. Combine bricks or paver BBQ islands with gas features, water, and electricity, and you're good to go. A grilling station combined with your outdoor BBQ island will give your patio or deck kitchen the final touch of ultimate utility.
Agoura Hills Outdoor Kitchens For Patios & Decks
Speak to our contractor team to see all the different options you can choose for your outdoor kitchen. Whether for lawns, backyards, or other areas, our local contractors can custom-built outdoor kitchens for any exterior setting. Arrange a free consultation to have a face-to-face and talk about all the details. We provide free estimates on all services, so you can start anytime without it costing you a dime!